://ftp ∼ curatorial consultancy online, offline & beyond
"
The Broken Timeline on distant.gallery
" (2022), an exhibition co-curated with Annet Dekker in collaboration with Valiz,
online
Also on display for the exhibition "
Matter, Non-Matter, Anti-Matter
",
ZKM | Karlsruhe
, December 2022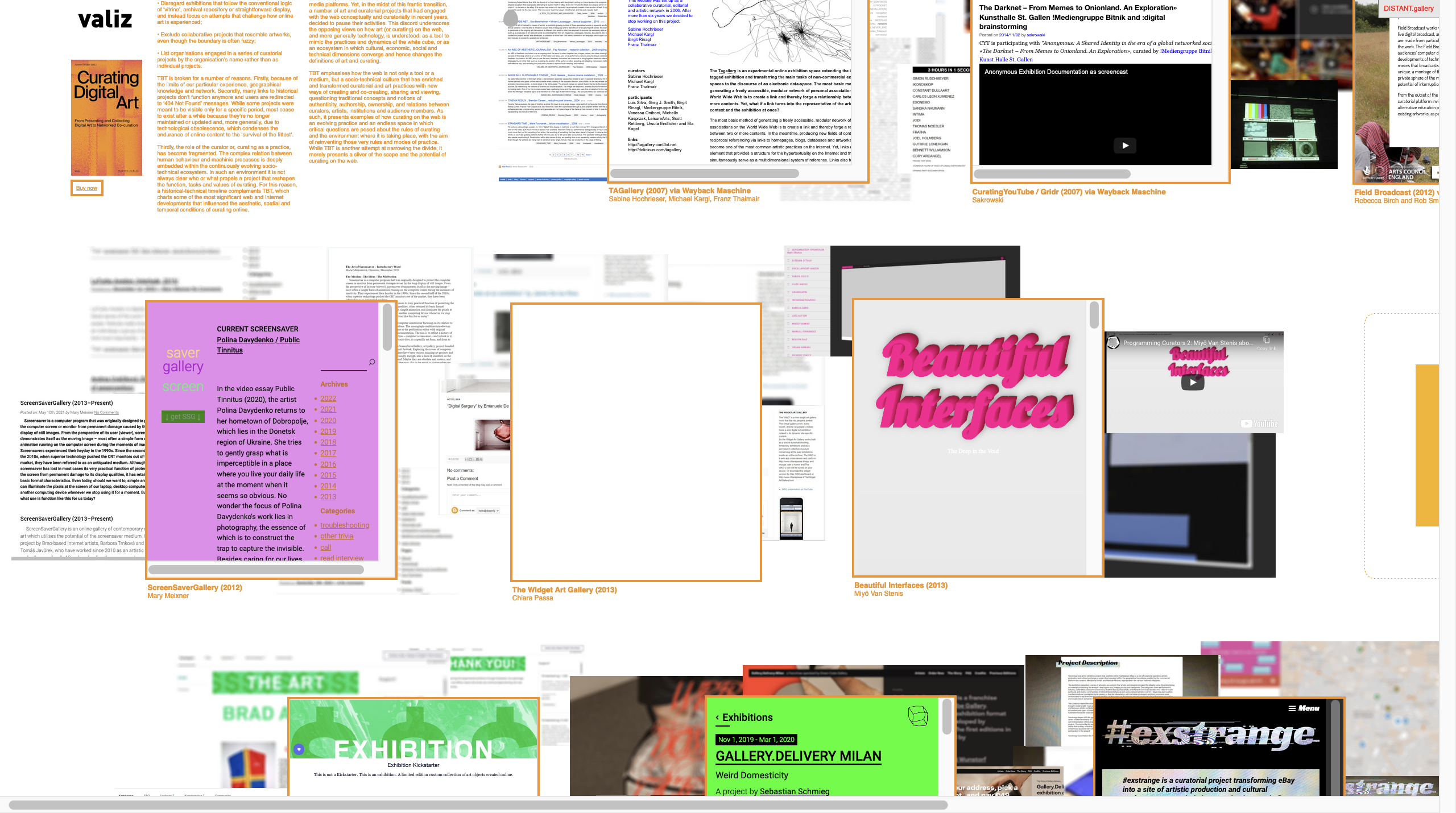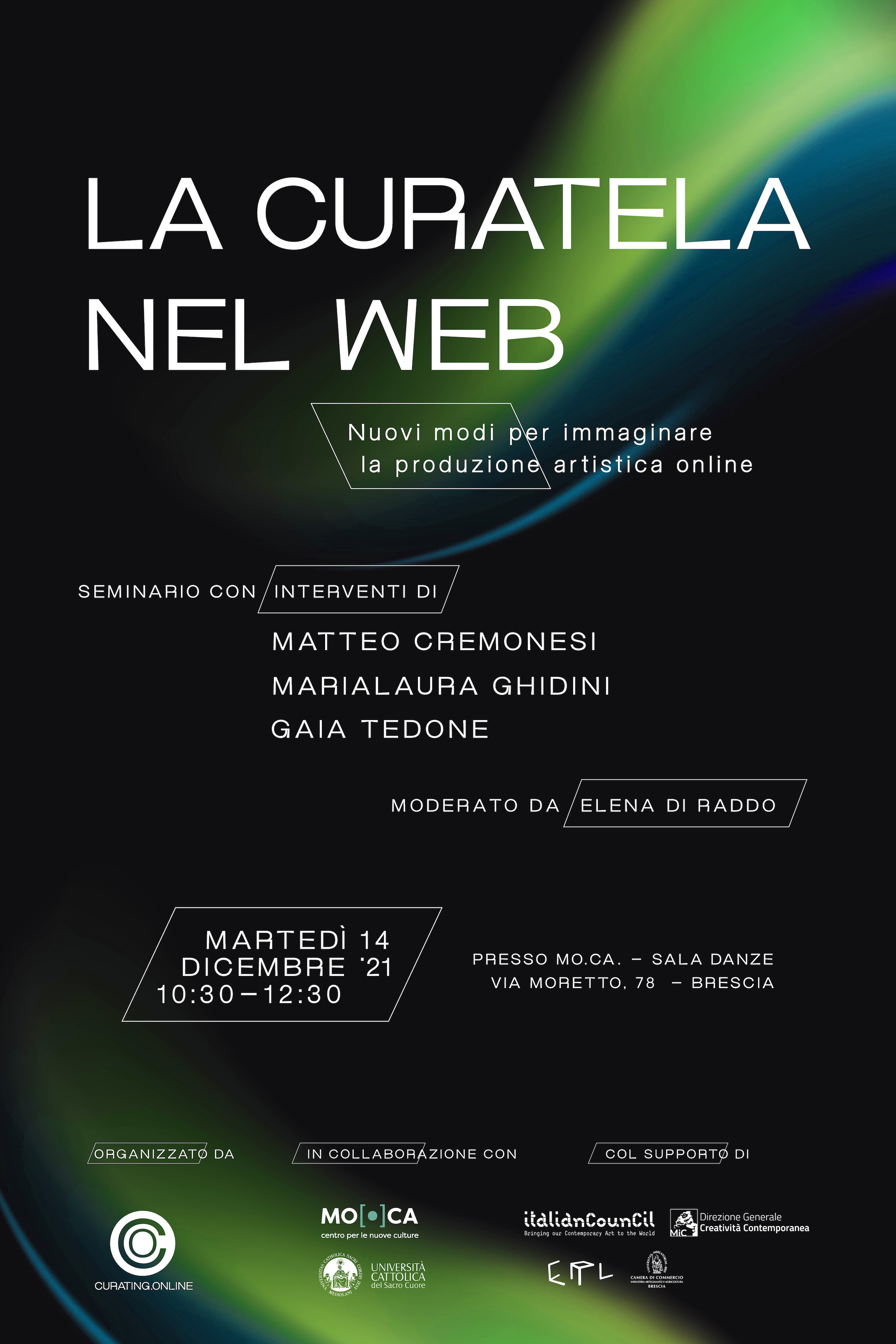 "
The Broken Timeline
"(2021), an archival project
online
& in print conceived with Annet Dekker for the book "Curating Digital Art," Valiz, Amsterdam (NL)
Also presented as a talk with Annet Dekker for "Calculating Control Symposium" at
Zentrum für Netzkunst
, Berlin (GER)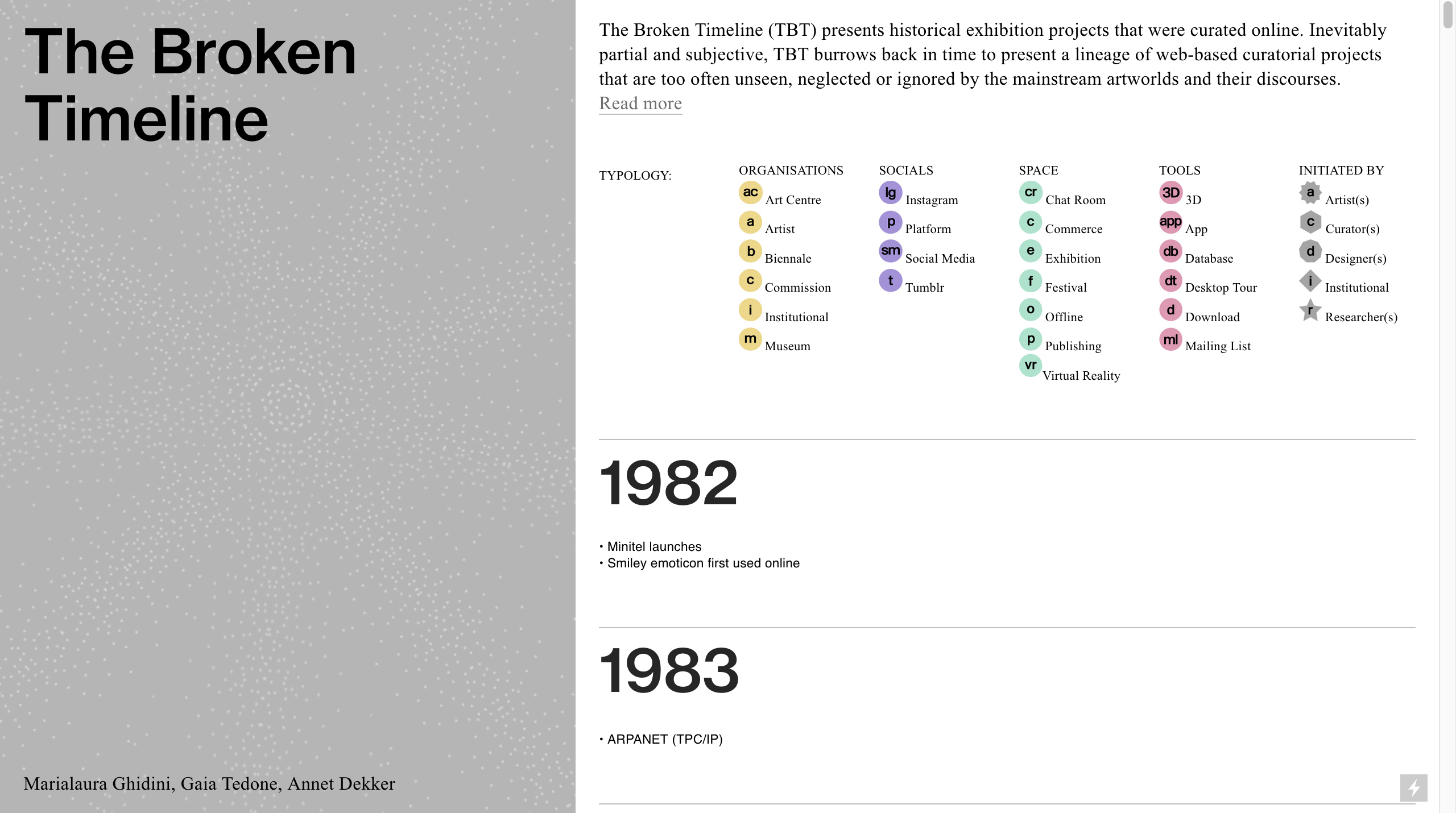 "
Disturbing the Balance
" (2022); a digital exhibition conceived for the programme "Sustainability" on the app of
Particle.art
+ a series of artists talks at BASE in Milan (IT)
With works by Joana Moll, IOCOSE, Mark Ramos & Ziyang Wu, Sultana Zana




"LA CURATELA NEL WEB — Nuovi modi per immaginare la produzione artistica online" (2021), a seminar in collaboration with curating.online at MO.CA - centro per le nuove culture, Brescia (IT)
"
2020: Digital Odyssey – #1 The Infamous Precedents + #2 Online or Nothing: a talk delivered for "Curating Online - Online Curating Symposium
" (2021) organised by
Masaryk University as part of Brno Art Week 2021
, Brno (CZK)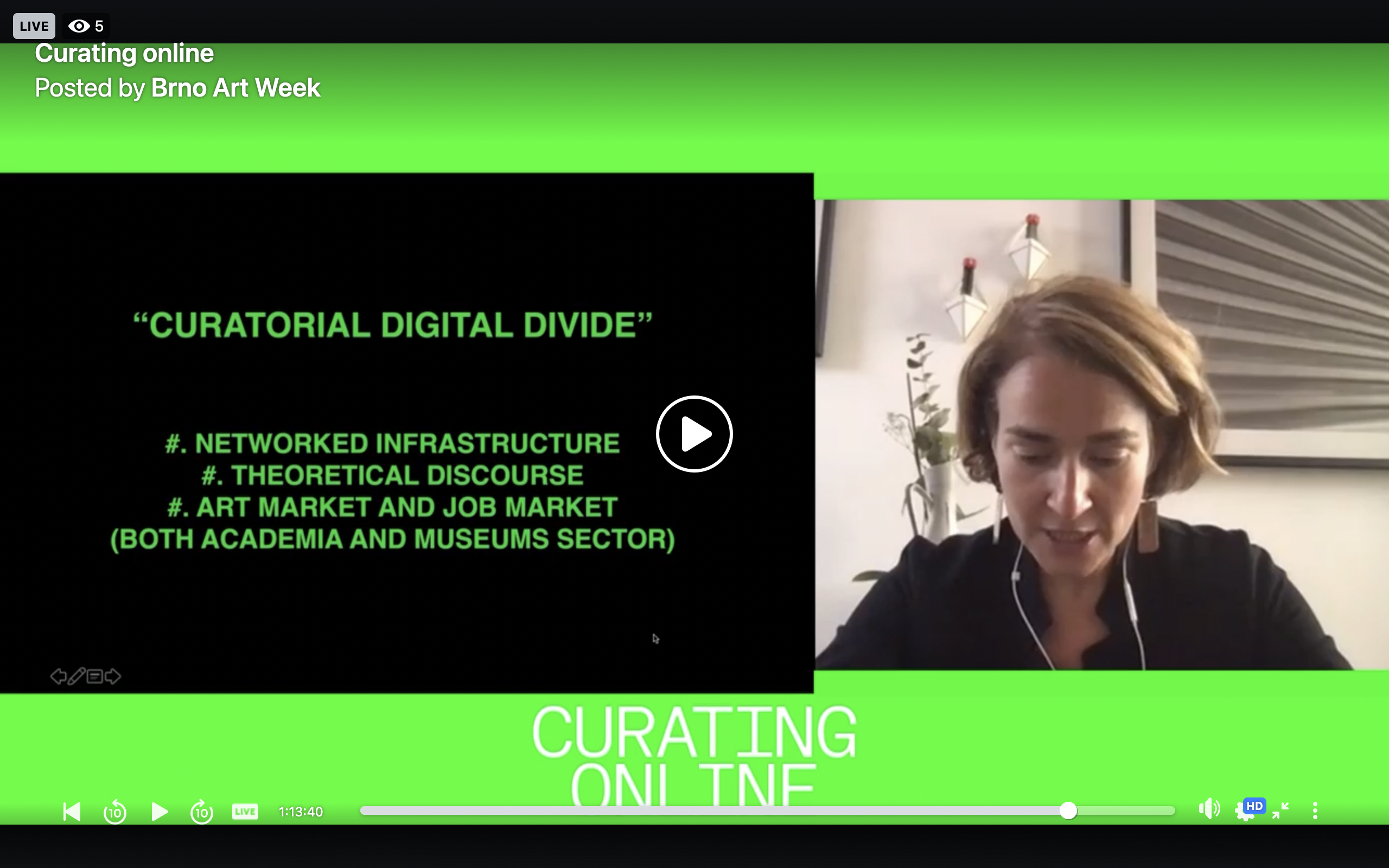 "
Curating on the Web — 2-day webinar + workshop
"(2021); webinar development in collaboration with
curating.online and Walkin Studios
, Bangalore (IN)
Invited speakers: ZHANG Ga, Guido Segni (Green Cube Gallery), Aarushi Surana and Kaushal Sapre, Virginie Tan and Astrid Lours-Riou, Guildor, Nimrod Vardi and Rebecca Edwards
Funded by "Mobility First! Collaboration Grants by Asia-Europe Cultural Mobility" (2021), research funding to support the mutual cultural practice of those working in the arts in Asia and Europe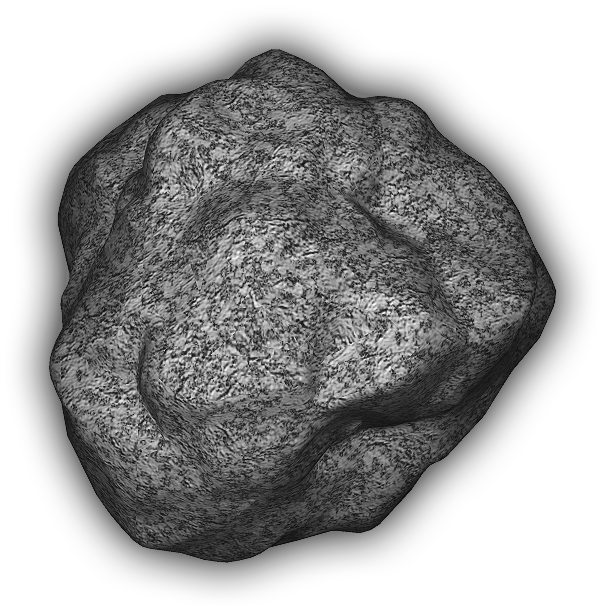 "
Curatorial Consultancy with Cassini
"(2017), a curatorial auction conceived for the project
"#exstrange"
curated by Rebekah Modrak & Marialaura Ghidini, online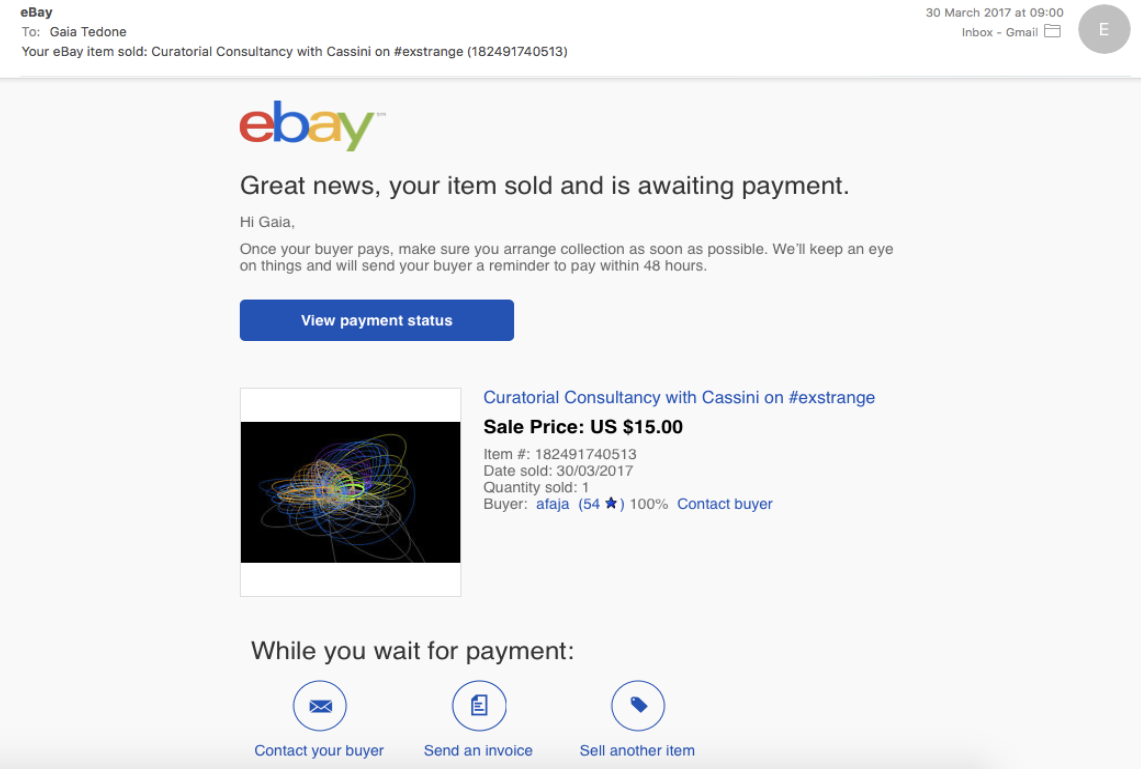 "screen-play + Back and Forth. And all over again" (2018-19), a series of video screening programmes in a London warehouse, James Taylor Gallery (UK).
With works by: Emanuel Almborg, George Barber, Slater Bradley, Matthew Noel-Tod, Zbig Rybczynski, Józef Robakowski, Sepideh Saii, Patrick Ward + Ann Carlson and Mary Ellen Strom, Marcel Dinahet, sue.k., Sheena Macrae, Rä di Martino, Elizabeth McAlpine, Sandrine Nicoletta, Wood & Harrison.